8th - 9th May 2023, Geneva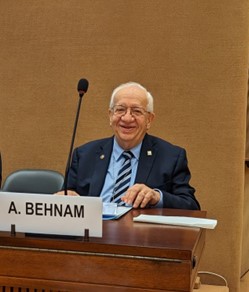 Hosted by UNCTAD,  the third iteration of the UN Trade Forum took stock of trade policies and how to best tailor them to the challenges that the world currently faces. Discussions focused on approaches aimed at making trading systems more resilient, particularly in developing countries, clarifying the effectiveness and feasibility of trade-related "high-impact initiatives" to respond to global challenges, and expediting progress towards the SDGs.
Representing the IOI, Dr Awni Behnam (Honorary President, IOI) participated in Session 2 of the forum which dealt with building a sustainable Ocean economy for development. Also attending this session were Ms Antonella Vassallo (Managing Director, IOI), Mr Peter Leder (Treasurer, IOI) and Mr Cosmin Chivu, (Project Officer, IOI).
With longstanding cooperation between them, both the IOI and UNCTAD recognize the critical role of the Ocean in global trade, transportation, and the blue economy while advocating for the integration of environmental considerations into trade and investment policies and ensuring the preservation of marine ecosystems and the livelihoods of coastal communities. Through their work, the IOI and UNCTAD remain committed to contributing towards the shared goal of promoting sustainable development while safeguarding the world's Ocean for future generations.
Read more about the UN Trade Forum 2023 here.