---
For all our news and events take a look at the latest IOInforma News Bulletin. 
---
Special Seminar: Ocean - Climate - Biodiversity: Code Red for Humanity 
25 November, 10.00 - 12.00 CET
Online via Zoom or In person: Aula Magna, University of Malta Valletta Campus
The aim of the Seminar is to strongly emphasise global concerns about Ocean, Climate, and Biodiversity, highlighting also UN Secretary-General António Guterres' recent statement on the IPCC Working Group 1 Report on the physical science basis of the sixth assessment.
The presentations shall bring attention to the latest developments in these areas while focusing on interlinkages of climate change, biodiversity loss, the well-being of the ocean and the subsequent impacts on humankind. Significantly, many important events surrounding these themes are being planned or have just been implemented and the expert speakers shall bring these outcomes to the attention of the audience.
To view the streamed seminar via Zoom, please register via the form below: 
---
IOI moderated Thematic Session 2B: A Sustainable Blue Economy to Support
the Green Transformation of Cities during the 16th Annual Session of Global Forum on
Human Settlements & Sustainable Cities (GFHS 2021)
Online Event, 28th October
The 16th Annual Session of Global Forum on Human Settlements & Sustainable Cities (GFHS 2021) was organised again in virtual format, with the theme "Accelerate Green Transformation and Innovation towards Healthy, Resilient and Carbon-neutral Cities" between the 27th and 29th October. As part of this event, the IOI moderated a Thematic Session 2B: "A Sustainable Blue Economy to Support the Green Transformation of Cities" where academic and industry leading speakers developed and emphasised the linkages between the theme of the forum, the Blue Economy and Ocean Health. The Forum was moderated by Antonella Vassallo, and featured the input of the distinguished speakers below.
---
IOI HQ partnered with Maltese company Computime
for a CSR/Ocean Literacy/Citizen Science outreach beach event as part of the
Mediterranean Ocean Literacy Festival 23rd - 24th September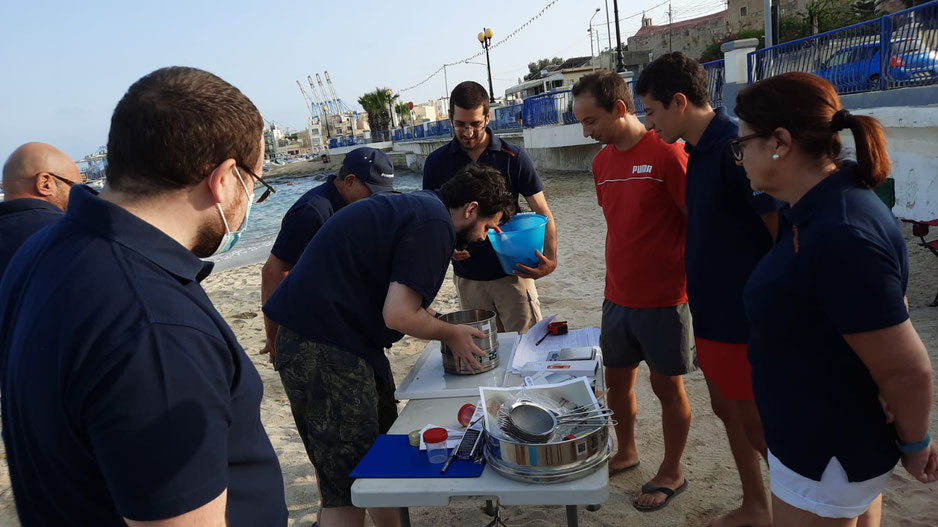 IOI partnered with local company Computime to carry out an Ocean literacy and citizen science-style event where the aim was to combine the sharing of Ocean knowledge with the collection of scientific information by interested laypersons among Computime staff. The event started with an IOI-supported online lecture by renowned local marine biologist and IOI trainer, Professor Alan Deidun. Prof Deidun shared with Computime staff interesting and intriguing facts on the azure sea and how responsible behaviour at the beach and away from it, can help protect it now and for future generations.
The talk was followed by coordinated visits to two Maltesebeaches where staff could put into practice what they learned. The beach sampling programme allowed the group to carry out simple investigations on local sand profiles, microplastics distribution and submerged beach litter using observation and special sampling equipment, snorkelling, and recording of data.
"Given the limitations on social gatherings during the current COVID situation, we wanted to find an activity which was both engaging but which would still be safe for our employees to attend. We achieved this and more with this initiative wherein the active participation and collaboration of our staff in scientific research to increase scientific knowledge, was both enjoyable and provided the opportunity to apply in practice lessons learned on how we can use our beaches, the pollution that constantly threatens our seas and how to beat this growing problem, and the decision-making needed to safeguard coast and sea in a safe, open space," said Computime HR Manager, Sandra Azzopardi.
"We are very excited to collaborate with such a relevant and influential organisation such as IOI," continues Johanna Bonnici, HR Executive at Computime. "More so, as our own participation comes at a time when a worldwide drive on the importance of ocean literacy is presently underway. It feels good to be part of a movement which raises awareness on matters which are particularly useful to a small island like ours.
" Speaking on behalf of IOI, Managing Director Antonella Vassallo said "this event organised with and supported by Computime, was an excellent opportunity to bring Ocean knowledge to a new community of interested stakeholders, to encourage a spirit of scientific interest for the benefit of the local marine environment and to increase ocean literacy in general. Having companies like Computime participate in the Mediterranean Ocean Literacy Festival, which was organised by the EU4Ocean Coalition on Med Coast Day, September 25th, is vital to growing a community of individuals knowledgeable on the importance of our Ocean."
The event fully achieved the Festival's aims to bring "ocean literacy to everybody's mind and actions in the Mediterranean Sea". Such events are complemented by the IOI's publication series – the World Ocean Review – which can be downloaded or ordered free of charge. 
---
The IOI will be hosting during the 16th GFHS Forum the thematic session
"Sustainable Blue Economy to Support the Green Transformation of Cities" 
GFHS 2021 27-29 Oct, Online Forum + Live Streaming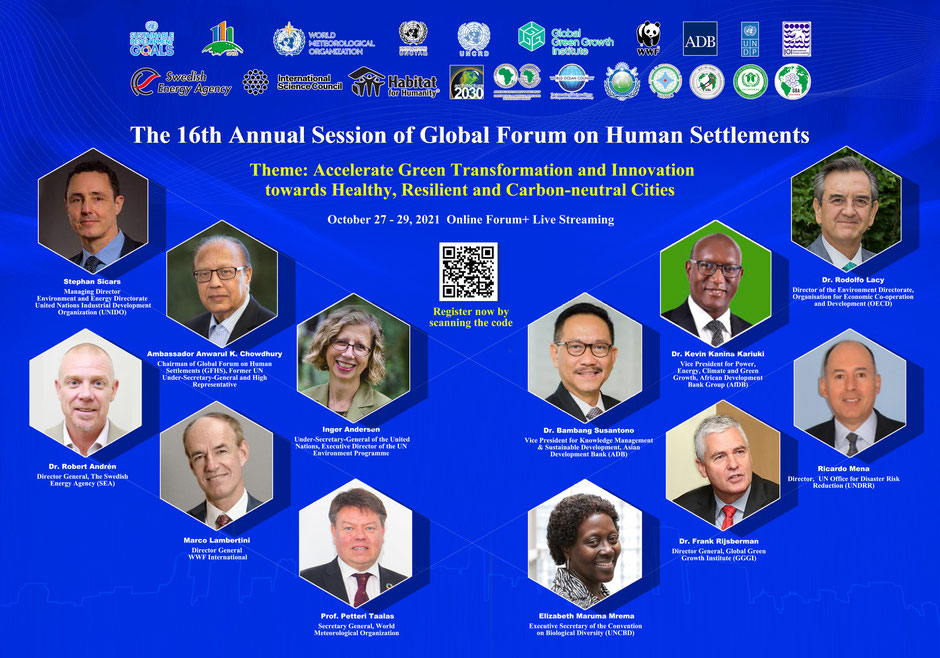 The 16th GFHS will be organized in a format combining online and offline participation, to address how cities can use green recovery as a golden opportunity to kick-start a green transformation and drive innovation at all levels and across all sectors, thus enhancing urban safety, resilience and inclusiveness, boosting green growth, and achieving coordinated, healthy, and high-quality sustainable urban development. Dignitaries from numerous countries, senior officials from UN and concerned international organizations, green city mayors, business leaders, and well-known experts and scholars will be giving keynote speeches and joining thematic discussions. Webcasting and simultaneous translation between Chinese and English will be available to foster interactive dialogues with stakeholders across the globe, and it is expected to reach out to approximately a hundred thousand of interested persons.
The IOI will be hosting during the GFHS Forum the thematic session "Sustainable Blue Economy to Support the Green Transformation of Cities". Prominent speakers invited by the IOI shall be addressing the topic during GFHS16 which aims to address how cities can use green recovery as a golden opportunity to kick-start a green transformation and drive innovation at all levels and across all sectors. Register now to the GFHS to secure your participation.
Click here for more info: http://www.gfhsforum.org/
Follow this link to register: http://gfhsforum.mikecrm.com/pkgIUTe
---
EMB Bursary Award 2021-2022

The 2021 EMB Bursary has been awarded to Mr Justin Cauchi, a Master's student with the Department of Biology under the supervision of Dr Julian Evans and Prof Patrick Schembri. Read more here
---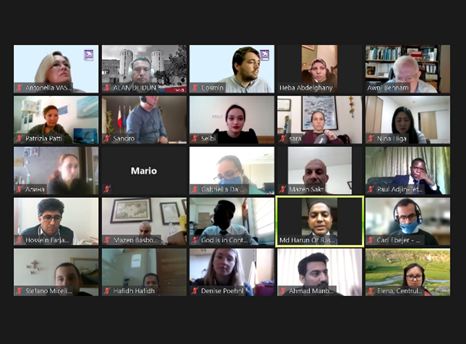 The IOI Malta Training Centre launches
the 16th IOI Training Programme
on Regional Ocean Governance for the Mediterranean, Black, Baltic and Caspian Seas
Accredited by, and in partnership with the University of Malta Online Delivery; 22nd February - 4th June 2021
The annual IOI Malta Regional Ocean Governance Course, offered jointly by the University of Malta and the IOI, commenced online at the start of this academic year's second semester. The 25 participants hail from 15 countries: Bangladesh, Brazil, Egypt, Georgia, Germany, Ghana, Iran, Italy, Lebanon, Moldova, Portugal, Russia, Tanzania and Turkmenistan. This year's online course was officially opened by Prof Awni Behnam, (Honorary President IOI, Course Director), by Prof Alan Deidun (Director of the IOI Malta Training Centre and Malta's Ocean Ambassador), and by Antonella Vassallo (Managing Director, IOI). The online Course is still ongoing and should come to a close at the end of May 2021.
---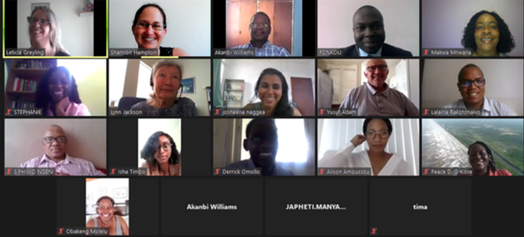 7th IOI South Africa Course in Ocean Governance
Delivered online between 22nd February - 19th March 2021
The IOI Course in Ocean Governance delivered annually by IOI South Africa, scheduled for September 2020, had to be postponed to the beginning of this year due to the COVID-19 pandemic. It was therefore held online between the 22nd February and the 19th March, in partnership with the South African International Maritime Institute and the South African National Biodiversity Institute. Despite being the first time the training was run entirely online, 21 participants from 12 different countries were accepted and were able to participate fully. The online training allowed for participants to engage with a much wider group - 48 experts from 39 organisations and 12 countries. It was also an excellent opportunity to work with other IOI centres (including Egypt, Kenya, Malta and Nigeria).

---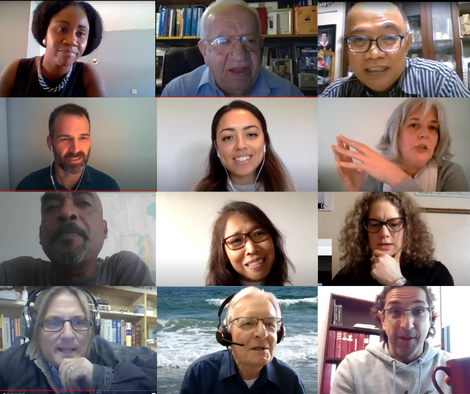 IOI Canada Online Alumni Refresher Course
Ocean Governance: Issues of Immediate Concern
16th November - 11th December 2020
With Covid-19 restrictions making face-to-face training impossible, IOI Canada took the plunge into the world of online training with its inaugural Alumni Refresher Course on Ocean Governance: Issues of Immediate Concern from 16th November to 11th December 2020. This free course was designed to offer IOI Canada alumni the opportunity to: • update their knowledge and understanding of key topics relating to coastal and ocean governance,
• share experiences and best practices from around the world,
• network with a range of alumni and speakers,
• strengthen their links with IOI.
It was also intended to serve as a useful pilot project which IOI Canada could build on and expand in 2021, if the preferred option of traditional face-to-face training proves not to be possible. Response from the alumni was strong with 75 expressing interest to an initial e-mail and 44 signing up to participate, despite very short notice and other commitments. They represented 30 countries in Africa, Asia, the Caribbean, Europe, South America and the South Pacific, came from a range of different sectors and backgrounds, and included alumni from all four decades of the training programme. The course consisted of a series of nine webinar-style sessions presented over a 4- week period by academics and practitioners, including two of our own illustrious alumni. 
---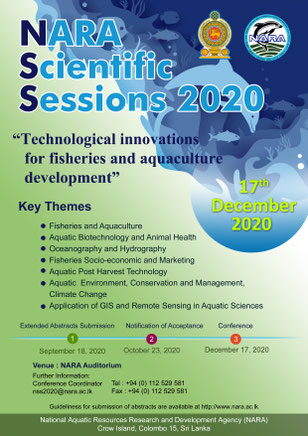 Technological Innovations for Fisheries and Aquaculture Development Webinar;
17th December 2020, Organised by the IOI Focal Point in Sri Lanka
On the 17th December 2020, the webinar was offered by National Aquatic Resources Research and Development Agency (NARA) through the coordination of Aruna Maheepala (IOI Focal Point in Sri Lanka) and the team of researchers of the Institute. In an exchange of supporting expertise, a keynote address was delivered by Alan Deidun, under the title "Extending the 'contactless' paradigm to the marine domain, how technology is revisiting our relationship with the sea in the lockdown era". Distinguished professors and lecturers from Universities across Sri Lanka chaired the five sessions namely Fisheries and Aquaculture; Oceanography and Hydrography; Aquatic Post Harvest Technology; Aquatic Environment, Conservation and Management, Climate Change; Aquatic Biotechnology and Animal Health and Fisheries Socio-economic and Marketing. The Proceedings of the session can be downloaded here.
---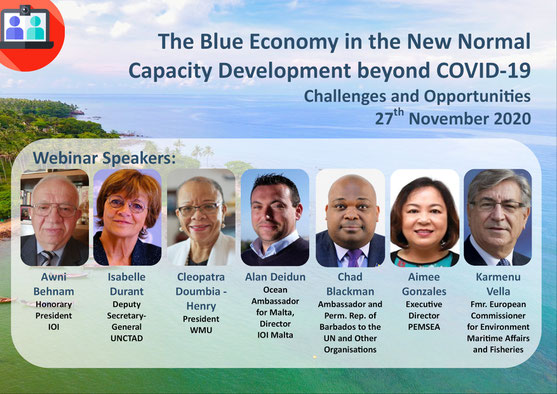 The Blue Economy in the New Normal
Capacity Development beyond COVID-19
Challenges and Opportunities
Webinar – 27th November 2020 – 10.00 CET
The IOI has successfully organised a Webinar on the Blue Economy in the New Normal; Capacity Development beyond Covid-19 – Challenges and Opportunities on the 27th November.
The COVID-19 pandemic is unprecedented in our lifetime and estimates show that it may generate a decline of world trade by a third this year alone, with Blue Economy sectors such as maritime transport, fisheries, and tourism being severely disrupted by the pandemic. Equally, capacity building in ocean governance plays a critical role in the reversal and mitigation of the impacts of the COVID-19 pandemic. It can enhance progress in achieving the SDGs and ultimately ensure safe and healthy oceans.
To this aim, the IOI Webinar on the Blue Economy in the New Normal: Capacity Development beyond COVID-19 – Challenges and Opportunities gathered expert speakers who shared knowledge and experiences gained in areas of the Blue Economy, ocean governance, climate and oceans, and human health, from the perspective of capacity development, to provide an outlook on the challenges brought by the COVID-19 pandemic and explored opportunities to mitigate its effects. The Webinar was moderated by Antonella Vassallo (Managing Director, IOI).
The Webinar was opened by Awni Behnam (Honorary President, IOI) who highlighted how a human approach to the Blue Economy is needed in order to counteract the failures of multilateral cooperation and minimize the pressures on the ocean health through over-exploitation. Cleopatra Doumbia-Henry (President, World Maritime University) underlined that solutions lie in education, and that by building capacity coupled with collaborative action to raise awareness and deliver the engagement of all parties involved, then the ocean can be sustainably managed. Since the "contactless" paradigm started recently extending to the marine domain, Alan Deidun (Ocean Ambassador for Malta; Director, IOI Malta) focused on how innovative technological applications are key to make a sustainable Blue Economy as attractive as possible to policy-makers and to those entering for the first time the job market. Isabelle Durant (Deputy Secretary-General of UNCTAD, Switzerland) addressed the need to reduce the carbon footprint of maritime transportation, and design and implement more sustainable shipping and port practices. Yet, there is a risk that the immediate concerns raised by COVID-19 may undermine the efforts aimed at promoting sustainable maritime transportation. Equally, equitable governance and support is particularly important for the more vulnerable members of the international community. Chad Blackman (Ambassador and Permanent Representative of Barbados to the UN and Other International Organisations at Geneva) highlighted that whilst COVID-19 is a major challenge, it presents the world a unique opportunity to rebuild in sustainable way. Also building on his personal experience, he concluded that the Blue Economy serves as an untapped sector which many Small Island Developing States can use to build economic resilience. Aimee Gonzales (Executive Director of PEMSEA, Philippines) expanded on how existing regional socio-economic development trends faced novel amplified challenges due to the COVID-19 pandemic, yet also highlighted how the current pandemic also offers opportunities for 'reset' on technical/capacity enhancement towards sustainable and inclusive Blue Economy. Karmenu Vella (Fmr European Commissioner for Environment Maritime Affairs and Fisheries, Malta) delivered a video presentation through which he highlighted the need to consider the potential of the Blue Economy as part of the recovery strategy while avoiding to repeat the mistakes made in the past, such as moving away from remedial actions to preventive solutions, leapfrogging into a greener and bluer economy (an economy which does away with all aspects of unsustainability), shifting from a land-based to an ocean-based economy, ultimately making the sector more sustainable.
At IOI we believe that placing people at the centre of the international response is essential in any recovery phase and IOI Alumni are ideally skilled to ensure equitable ocean governance practices to govern and sustain a Blue Economy that benefits the generations of today and tomorrow, across the world. As part of our continuing conversations on ocean matters, it was our pleasure and honour to invite public attendees and IOI alumni to attend the topical webinar offered by the IOI.
---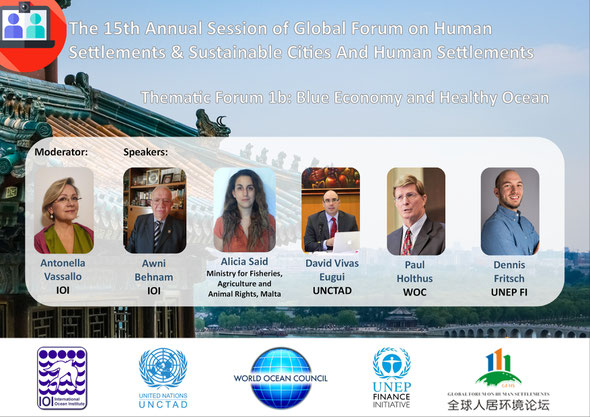 The 15th Annual Session of Global Forum on Human Settlements & Sustainable Cities And Human Settlements Awards Ceremony (GFHS 2020)
Online Event, 15th – 16th October
The 15th Annual Session of Global Forum on Human Settlements (GFHS 2020) was organized in a virtual format, with the theme being "Post-Pandemic Recovery and Transformation: Resilient Cities, Healthy Planet". 
The IOI partnered with UNCTAD, WOC and UNEP-FI in order to develop and emphasise the linkages between the theme of the forum, the Blue Economy and Ocean Health. To this end, a thematic forum was held during the event, with the speakers highlighting actions towards achieving and sustaining a healthy ocean, strengthening urban safety and resilience, and fostering partnerships towards attaining the SDGs. The Forum was moderated by Antonella Vassallo (Managing Director, IOI), and featured the input of expert speakers and commentators.
The thematic forum was opened by Awni Behnam (Honorary President, IOI) who addressed the need to make future coastal cities and megacities human-centered in a post COVID-19 era, and to empower human resources so that we may live from the ocean and with the ocean sustainably. Future coastal cities should be resilient yet adaptable, and where sustainable governance is in the hands of all stakeholders sharing mutual aspirations.
Alicia Said (Director for Fisheries, within the Department of Fisheries and Aquaculture at the Ministry for Fisheries, Agriculture and Animal Rights, Malta) addressed the issue of small-scale fisheries through the prism of sustainability, and highlighted the need for an integrated approach in the implementation of the SDGs and the SSF Guidelines. Although often considered as a fisheries problem, the sustainability of small-scale fisheries is much more than that, and is interconnected to various systems including the community, the markets, the political economy, and other structures which, although not always visible, have a determinant role in the viability equation of small-scale fisheries.
Since coastal and maritime tourism is the largest of all blue economy sectors and at the same time one of the most affected by the COVID-19 pandemic, David Vivas Eugui (Legal Officer at Officer of the Director, Division on International Trade and Commodities, UNCTAD) proposed a mix of government and private sector measures that would be needed in order to avoid further coastal tourism sector deterioration as well as to provide income support for vulnerable populations until the demand incrementally returns. The presentation was co-created with Claudia Contreras (Economic Affairs Officer at the Trade, Environment and Sustainable Development Branch of UNCTAD).
Paul Holthus (Founder, World Ocean Council – the Global Blue Economy Business and Investment Organization) delivered a video presentation through which he highlighted that global cross-sectoral leadership, collaboration and action by the Blue Economy business and investment communities are essential for sustainable, resilient coastal cities and a healthy ocean. Additionally, he proposed that attainable innovative initiatives such as accelerators, incubators, challenge competitions, and startup hubs could be created to focus on the needs and opportunities for sustainable development in coastal cities to harness and focus the power of entrepreneurship in tackling the issues.
International funding initiatives have a major role to play in financing the transition to a sustainable blue economy, and these were explored by Dennis Fritsch (Member of the Secretariat and Coordinator, UNEP FI Sustainable Blue Economy Finance Initiative) in his presentation. He suggested that banks, insurers and investors are ideally positioned to direct the flow of capital towards activities which directly contribute to SDG 14 (Life below water), via an expert community of practice alongside the development of guidance and tools. Institutions can help to rebuild ocean prosperity, restore biodiversity and regenerate ocean health.
Mao Bin (former Secretary General, Research Fellow, China Ocean Mineral Resources R&D Association), Cherdsak Virapat (Director General, Centre on Integrated Rural Development for Asia and the Pacific) and Sunil Murlidhar Shastri (Director, Ocean Governance Limited, United Kingdom) were invited to provide their commentary on the panel presentations. The commentaries referred to the need for resilient cities and inclusive cities, and sustainable development and blue economy, more than ever before. In a post-pandemic world, innovation, business and investments should not repeat the mistakes of the past but adapt their policies to carefully incorporate concepts of sustainable development and protection of ocean health into all future loans and investments, with commitment, responsibility, accountability and integrity; focusing on conservation of common resources, reducing global warming and maintaining ocean health to ensure our future survival. All agreed that developing capacity in ocean governance and empowering global ocean managers was critical to achieving ocean sustainability and ocean health, thus creating a sustainable, equitable, and resilient Blue Economy that prioritised living from the ocean and with the ocean in a sustainable relationship.
https://public.wmo.int/en/media/news/global-forum-promotes-resilient-cities
https://www.itu.int/en/ITU-T/climatechange/Documents/Events/01%20-%2015%20October%202020/press_release%20_GFHS-2020.pdf?csf=1&e=6v9ELK 
---
IOI Thematic Forum 1b "Blue Economy and a Healthy Ocean" 15th October 2020 in the 15th Annual Session Global Forum on Human Settlements
The IOI is a collaborating partner with the Global Forum on Human Settlements in the organisation of the online 15th Annual Session Global Forum on Human Settlements, this 15th – 16th October. The 15th GFHS will address the theme of Post-Pandemic Recovery and Transformation: Resilient Cities, Healthy Planet.
Within the Forum, the IOI, through HQ, is responsible for coordinating and moderating Thematic Forum 1b "Blue Economy and a Healthy Ocean" on the 15th October. Partners and speakers in this session hail from the IOI, the World Ocean Council (WOC), UNCTAD, UNEP FI Sustainable Blue Economy Finance Initiative, and the Ministry for Fisheries, Agriculture and Animal Rights, Malta.
You are cordially invited to register to the GFHS online Forum and to also join IOI and the distinguished speakers of Forum 1b "Blue Economy and a Healthy Ocean" on the 15th from 13.30hr to 15hrs (CET).
Register to the event: 
http://gfhsforum.mikecrm.com/zHJo704
For more information:
---
New President of IOI Governing Board and Composition of IOI Governing Board in 2020 
Dr Mahin Faghfouri is the new President of the IOI Governing Board, chosen by the Board members in unanimity during their meeting in December 2019. She succeeds Nikolaus Gelpke, who is now the IOI's Patron, following his previous role as President. The IOI family acknowledges with gratitude his support of the IOI throughout his tenure. The position of Vice President vacated by Dr Faghfouri is now occupied by Dr Chua Thia-Eng. The IOI continues to benefit immensely from the combined expertise and guidance of its members:
         Dr Awni BEHNAM, Honorary President
         Mr Nikolaus GELPKE, Patron of IOI
         Dr Mahin FAGHFOURI, President
         Dr Chua THIA-ENG, Vice-President
         Dr Lamiaa MOHAMEDEIN, Chair of IOI Directors
         Mr Peter W. LEDER, Treasurer
         Professor Simone BORG, Representative of the Government of Malta to the IOI Governing Board
         Dr Lawrence HILDEBRAND, Member 
         Ms Anita COADY, Member 
         Professor Louis F CASSAR, Member
         Dr Wendy WATSON-WRIGHT, Member 
         Dr Shi SUIXIANG, Member
---
IOI panel on Human Health and the Health of the Ocean organised during the 2nd Xiong'an International Health Forum in Langfang, PR China (17th - 18th October 2019)
The 2nd Xiong'an International Health Forum (XIHF), co-founded by the Shenzhen World Health Foundation, aimed to provide a platform for government officials, business managers, researchers and practitioners where ideas and good practices could be exchanged in order to predict development trends, discuss policy recommendations, build cross-sector bridges and promote the comprehensive implementation of the UN Sustainable Development Agenda, with a special focus on human health issues.
During the forum the IOI was invited to organise a panel on "Human Health and the Health of the Ocean: Linking SDG3 and SDG14 for Human Health & Wellbeing". The panel was moderated by Antonella Vassallo and contained interventions from Chad Blackman (Ambassador and Permanent Representative of Barbados to the UN and other international organisations in Geneva); Poh Poh Wong (Visiting Associate Professor, School of Social Science, University of Adelaide, Australia); Mao Bin (Course Director, IOI China Training Programme); Hajo Zeeb (Professor of Epidemiology, Leibniz-Institute for Prevention Research and Epidemiology-BIPS, Bremen, Germany); Lu Haifeng (Secretary General, Global Forum on Human Settlements); Cherdsak Virapat (Executive Director, International Institute for Trade and Development, Thailand) and Peter Leder (Member, IOI Governing Board).
The speakers made their presentations with the intent of developing and emphasising the linkages between SDG3, SDG14 and also SDG13 under the broad thematic of human health as it relates to ocean and climate issues, Small Island Developing States, the interdependence of cities and oceans, ocean governance, capacity development and education, institutional arrangements and ocean policy, aquaculture and food security and socio-cultural issues.
Lifetime Achievement Award presented to Awni Behnam (photos available in the GALLERY section)
During the opening ceremony of the Forum, Awni Behnam (Honorary President, IOI) received the XIHF Lifetime Achievement Award, in recognition of his contribution to promoting the sustainable use of the ocean and also for his role in raising awareness on the importance of using its resources rationally and sustainably. The award was collected on his behalf by Antonella Vassallo.
---
The World Maritime University and the IOI partner on ocean sustainability and capacity development, January 2019
The President of WMU, Dr Cleopatra Doumbia-Henry, and the President of the International Ocean Institute, Mr Nikolaus Gelpke, signed a five-year Memorandum of Understanding (MoU) in January 2019. The MoU builds on the shared commitment of the IOI and WMU in supporting the implementation of UN Sustainable Development Goal 14 focused on sustainable oceans as well as the vital role of education and capacity building in support of the UN 2030 Agenda for Sustainable Development.
The MoU fosters the development of collaborative and reciprocal activities in the fields of ocean sustainability, ocean governance, the implementation of the sustainable development goal for the oceans, and the science-law-policy interface. Collaboration in research, training opportunities and capacity-building initiatives and in the delivery of conferences, seminars, workshops and joint publications on matters of common interest will contribute to the achievement of these objectives.
---
THE INTERNATIONAL OCEAN INSTITUTE (IOI) CAN ASSIST YOU IN ACHIEVING SDG14 AND ITS TARGETS 
In this era of globalization and sectoral integration, capacity building in ocean governance plays a pivotal role in ensuring safe and healthy oceans for the benefit of humankind and the planet. Additionally, obligations towards achieving the SDGs, notably SDG14 and its targets, and other intersecting SDGs, place a burden of responsibility on States and institutions which may benefit from targeted capacity development and training opportunities for their staff.
---
IOI SOUTH AFRICA HAS LAUNCHED A LINK ON THEIR WEBSITE FOR IOI-SA KIDS RESOURCES
IOI SA cares about empowering all sectors of the population with knowledge about the marine environment including the young ocean ambassadors. They have developed a (digital) booklet of games that are available as PDFs on the IOI SA Kids website.
---