Online via Zoom & In person: Aula Magna, University of Malta Valletta Campus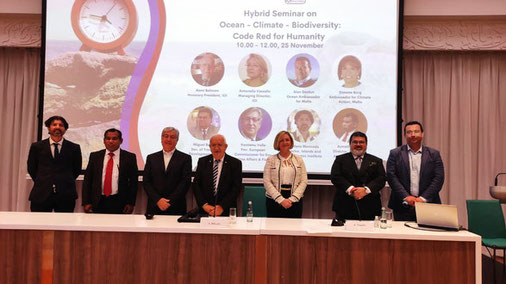 As part of the annual IOI Malta Training Course on Regional Ocean Governance, International Ocean Institute (IOI) together with the University of Malta organised a high-profile hybrid seminar to draw the limelight on the need for a more integrated approach to some of the most compelling challenges facing human societies today and to the urgency for action. 
The premise to the seminar, in fact, is the 'Code Red for Humanity' poignant phrase coined by UN General-Secretary Antonio Guterres in the run-up to the UNFCCC COP26 meeting in Glasgow. 
The closely-knit interlinkages between the domains of climate change, ocean governance and biodiversity cannot be ignored given that addressing the existential challenges posed by climate change and biodiversity conservation hinge on a healthy and functional ocean. 
The seminar was chaired by IOI Honorary President Prof Awni Behnam (Affiliate Professor within the Department of Geosciences) and by Ms Antonella Vassallo, Managing Director of the IOI. Prof Alan Deidun, Malta's Ocean Ambassador and Director of the IOI's Malta Training Centre, delivered a briefing on the work conducted by the EU Commission's Mission Starfish Board, of which he is a member, whilst Dr Stefano Moncada, Director of the Islands and Small States Institute at the University of Malta, touched upon the array of socio-economic tools (e.g. green financing) which are available to usher in the much-needed change in the international climate narrative. 
Dr Miguel Bautista, Secretary of the Trade and Development Board within UNCTAD, gave his take on how the current 'Code Red' status humanity is facing can be addressed through a series of 'Action Stations', whilst Prof Simone Borg, Malta's Climate Ambassador, delved into the global security implications of Sea Level Rise (SLR). Former EU Commissioner for Maritime Affairs Karmenu Vella emphasised the need for human behavioural change as an essential complement to the ongoing revamping of governance structures whilst Dr Azmath Jaleel, Director of the IOI Ocean Academy in the Maldives, gave a first-hand account of the hazard posed by unremitting sea-level rise to his home country – low-lying Maldives. 
This year's IOI Malta Training Course on Ocean Governance is once again being offered in a hybrid fashion, with a total of 20 participants from 14 different countries following online lectures for Course Study-Units accredited by the University of Malta, namely GSC5101 and GSC5102. Contingent on an improvement in the COVID pandemic international situation, the full 15-ECTS IOI Malta Training Course will be offered physically once again as from November 2022. Further information about the said Course can be found here.