---

Register now for the following IOI Ocean Academy courses organised in English, Urdu and English and Portuguese language by our partners in Nigeria, Pakistan and Portugal. 
Participation is free of charge for interested applicants and the 20hr modules are offered online.
Visit the IOI Ocean Academy dedicated webpage for more information or to register your interest for other programmes.
---
Two More IOI Ocean Academy Programmes Successfully Delivered 

SINGAPORE: The Ocean, Source of Life and Livelihoods - An online Ocean Literacy Course; Online, 11 - 22 July 2022, in English Language
The third Ocean Academy Programme organised by Singapore Focal Point and IOI Ocean Academy Director, Jai Acharya was successfully completed in July.  A total of 31 faculty members from the Indian Maritime University (IMU), with great enthusiasm to learn about our Ocean, participated in this event. The IOI Ocean Academy mainly focussed on East Asian / Southeast Asian Seas and Indian Ocean with a global and local touch-up on regional marine ecosystem, mangroves, marine parks, marine protected areas (MPA), mangroves, bio-diversity and Ocean related local issues. It also discussed on Ocean bio-diversity, marine environment, concept of sustainability and application of blue economy for the ocean related activities and business ventures. Topics such as brief introduction of sustainable development, Rio+20 and United Nations Sustainable Development Goals (UN SDGs) and Agenda 2030 were covered. A new section "Environmental Shipping and Climate Change Challenges" was introduced which was greatly appreciated by all the participants. Contributions of Regional Cooperation like "Partnerships in Environmental Management for the Seas of East Asia" (PEMSEA) and "Indian Ocean Rim Association" (IORA) were discussed specifically in the perspective of socio economic and ocean environmental management. The message on 'Ocean Literacy for All' will be carried out further, by these ambassadors, to young students to motivate them to join the IOI Ocean Academy as learners, teachers and practitioners.
"The sessions were very informative and I believe most of us have already started looking at Oceans with a different perspective. 
We look forward to a fruitful association with IOI for future endeavours as well."
Dr Sheeja Janardhanan, Associate Professor Indian Maritime University,  IMUV, Andhra Pradesh, India
"I really enjoyed the entire gamut of ocean knowledge delivered by you. Many things i was not aware of earlier. I am genuinely enlightened."
Dr Jayan, Indian Maritime University, Kochi
"The entire journey of 2 weeks was a real value addition for me. These classes ignited an interest in a new topic that was not seriously looked upon earlier in our usual curriculum. I presume that the entire course would have changed the approach of all the participants. It progressed from a situation where some participants raised doubts regarding the realisation of SDGs to a situation where they started thinking about what should be done by each one to preserve or conserve the marine environment. Thank you, sir, for your energy, enthusiasm, and great involvement throughout the sessions.  Personally, I gained a lot, probably because sustainable development is a topic close to my heart."
Dr Emil Mathew, Assistant Professor, Indian Maritime University, Chennai 
EGYPT: Contribution of Sustainable Development goals to Marine Environmental Conservation; Online, 17 July - 7 August in Arabic language. 
The second IOI Ocean Academy programme offered by IOI Egypt in the Arabic language was another resounding success, attracting around 330 registrations from different disciplines and backgrounds from the Arab region. Due to limited space and to allow for meaningful interaction and class discussion, 33 participants were chosen to participate, with 29 successfully completing the course and receiving a certificate on completing the 21 hours, 3 hours/day twice weekly event running from 17th July till 7th August. More programmes are expected to be organised in the near future to accommodate the overwhelming interest in the region and language grouping.
The IOI Ocean Academy opened with the usual introduction on the IOI and the IOI Ocean Academy and the main topics of this course were the Sustainable Development Goals, SDGs, and Agenda 2030 and the SDG interlinkages within the marine environment.  Included in the programme was a discussion on the SDGs, their role in securing sustainable small-scale fisheries, and the effects on marine life and the environment especially. The course made especial emphasis on the SDGs covering No Poverty-Zero Hunger; Responsible consumption and Production; Good Health and Well Being; Affordable and Modern Energy; Industry; Innovation and Infrastructure; Sustainable cities and communities; Climate Action and Life below water; and stakeholder communities around the regional coasts. The programme was coordinated by IOI Egypt Centre Director, Lamiaa Mohamedien. 
---
Launch of the Ocean Academy in Pakistan and South Africa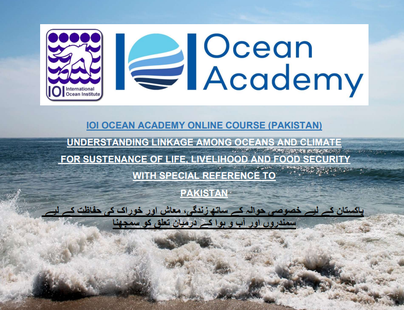 PAKISTAN:  Javed Avzal - IOI Focal Point, and Director of the IOI Ocean Academy for Pakistan
It's a matter of great pleasure and privilege to report this milestone achievement in a very short time. This inauguration and commencement of the first online IOI Ocean Academy course in Pakistan was a challenging task from the onset which was in late April 2022. Since then there was no looking back and with very gracious and readily available support from Antonella Vassallo, Managing Director, IOI HQ, Peter Leder, and the IOI HQ staff, plans progressed to consolidation. I would fail in duty if I do not mention the support and encouragement provided by Honorary President IOI, Dr Awni Behnam. 
It was an uphill task to announce the course, allow interested persons to register and then to commence the course in a short time but with the support also of local collaborators and resource persons, the target audience was contacted and engaged and a rich roster of resource persons commissions for all the lectures, with more than one resource person for each topic. Our strategy worked effectively and quickly we were able to select our participants for the first course.  I am very privileged to announce that the first course commenced on the 15th  August and today while I am writing this initial report, two very successful sessions have already concluded. The course started with a video recorded welcome message from Dr Awni Behnam, for which we are very grateful. I am very glad to announce that first IOI Ocean Academy course has generated international interest where we have participants from four nationalities other than Pakistan and we have embarked on planning the next course soon. Hopefully, alumni of this course and the following courses will lay the foundation of long-term ocean awareness campaigns in Pakistan and globally. I render my sincere gratitude to all those who helped me to make this event possible.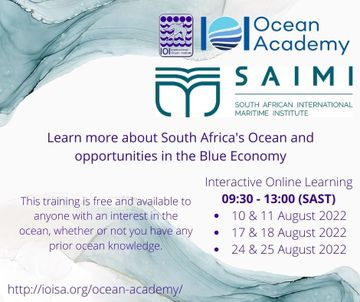 SOUTH AFRICA: IOI SA Training Director Judy Beaumont
IOI South Africa also launched their first IOI Ocean Academy programme on the 10th of August 2022 in collaboration with the South African International Maritime Institute SAIMI. A total of 71 registrations were received. The following topics will be covered: What the ocean means for life on earth, and to each of us; Marine and coastal biodiversity, ecosystem goods & services; Challenges facing our oceans and coasts; Climate change: what it means for our oceans and coasts; Blue Economy; ending with a Consolidation Session.