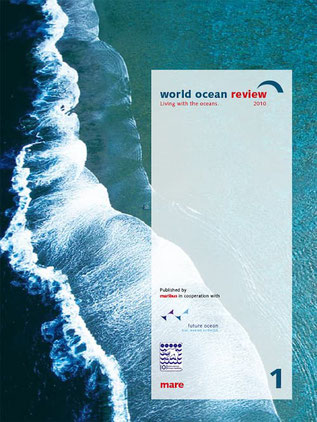 The World Ocean Review series is dedicated to raising the public's awareness of interrelationships in marine science, contributing to a more effective protection of the seas. 
In this respect, from the very early days it has been designed to upgrade the Ocean literacy of the reader by providing an understanding of relevant Ocean information, highlighting the interlinkages between Ocean knowledge and science, Ocean-based economic activities, and the socio-cultural importance of people's interactions and dependence on the Ocean – in fact, the very pillars of sustainable development and sound Ocean governance.
Titles delivered by the World Ocean Review series, books 1-7 respectively address Living with the Oceans, The Future of Fisheries, Marine Resources, Sustainable Use, Coasts, The Arctic and Antarctic, and The Ocean, Guarantor of Life. The solid partnerships of the Series (experts from The German Marine Research Consortium and The Future Ocean network, the International Ocean Institute (IOI), mare – the magazine of the seas, and publisher Maribus) ensure that this Series provides highly accessible, easy to follow, cross-referenced and updated knowledge to global readers and the publications are distributed free of charge, and easily downloaded from the Series website.  
In 2022, on the 50th anniversary of the foundation of IOI by Elisabeth Mann Borgese, the admirable efforts of Dr Kensuke Yamaguchi and his team at the University of Tokyo have made the first World Ocean Review - Living with the Oceans - available also to a new audience of Japanese-language readers. We are convinced that this opportunity shall yield fruits that will be enjoyed for years to come by a more Ocean literate society. 
Other benefits also accrue to the cohorts of the University students engaged in the translation of this book, who will bring their new awareness of the interconnectedness of the Ocean, the planet's biosphere and climate, the blue economy, and humankind, to their careers on graduation. We recognise in them a new generation of Ocean leaders in the making, able to engage actively and knowledgably in debate and policy-making on these inextricably linked Ocean issues. We are proud to stand in partnership with this community to seed a culture of responsibility and policies of reason and to achieve an equitable and sustainable relationship with our mother Ocean.
The translation and publication of the Japanese-language version of WORLD OCEAN REVIEW "LIVING WITH THE OCEANS" was made possible with the support of with the support of the Interdisciplinary Education Program on Ocean Science and Policy under the University of Tokyo Ocean Alliance Collaborative Research Organization and the Japanese-language translation may be accessed from here.  
Please see also the related article in Ocean Newsletter, No. 543 (publisher: OPRI); embargoed till 20th March 2023.
Antonella Vassallo Managing Director, International Ocean Institute