30 August - 1 September 2022, Sofitel Philippine Plaza, Manila, Philippines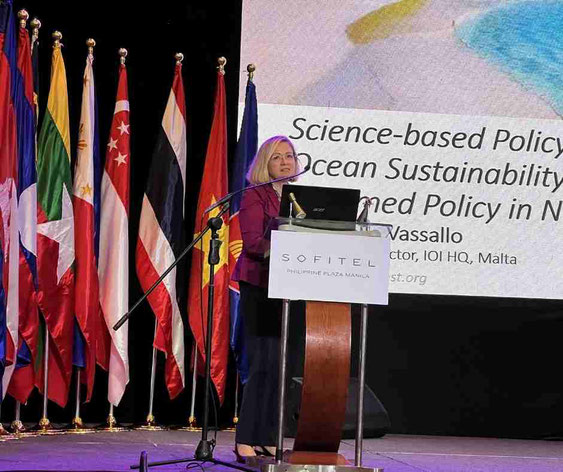 Member countries of the East Asia Summit (EAS) reaffirmed their commitment to further strengthen regional cooperation towards clean, healthy, and sustainable oceans at a three-day workshop in Manila, hosted by the Department of Foreign Affairs. This was the second EAS Workshop on Maritime Cooperation that the Philippines has hosted to implement action lines under the Manila Plan of Action to Advance the Phnom Penh Declaration on the East Asia Summit Development Initiative 2018-2022.
The Workshop consisted of 4 sessions: Regional Situationer on the Oceans of East Asia and the Indo-Pacific; Clean, Healthy, and Sustainable Oceans for All; Best Practices in the Conduct of Technical & Scientific Cooperation; Synthesis and Ways Forward; and saw the participation of 57 scientists, technical experts, diplomats, and representatives from EAS Participating Countries as well as UN agencies and other stakeholders in the EAS maritime sector.
In Session 2, Antonella Vassallo, Managing Director IOI HQ, delivered a presentation on "Science-based Policy Making on Marine Sustainability: The Need for Informed Policy in Negotiations". The presentation focused on ocean literacy and its importance across all levels of stakeholders on marine and ocean issues and how the nexus between ocean literacy and governance would generate science-based decisions in ocean governance leading to better policies. It is the nexus of knowledge and science application in universal rule making that determines the path to governance, compliance, and enforcement. As the representative of IOI, she underscored the participation mechanisms and capacity development opportunities implemented and overseen by IOI at different scales, such as the provision of training programmes on regional ocean governance, and the global IOI Ocean Academy programme. She added that through these initiatives, participants can be empowered to become more active locally as stakeholders to positively influence their communities and beyond. In addition, she shared that some benefits of enhancing ocean knowledge, ocean literacy and potential action are creating a cohort of ocean-literate decision makers at all levels, increasing regional coherence in policy making and cooperation, empowering pro-Ocean activities, and increasing awareness of the Ocean-Climate-Biodiversity interlinkage.