---

Visit the IOI Ocean Academy dedicated webpage for more information, to check for other courses open for applications  or to register your interest for any upcoming courses. Applications will soon be open for other courses to be held in April and May.
Participation is free of charge for interested applicants and the 20hr modules are offered ONLINE.  
Eight More IOI Ocean Academy Courses Successfully Delivered

SOUTH AFRICA: Learn more about South Africa's Ocean and Opportunities in the Blue Economy, Online, 7- 21 Feb23 in English Language
IOI South Africa partnered with the Two Oceans Aquarium Foundation in conceptualising and developing an Ocean Academy focused on expanding ocean literacy. The five 4-hour sessions covered: What the ocean means for life on earth, and to each of us; Marine and coastal biodiversity and ecosystem services; A solutions-based focus on challenges facing our oceans and coasts; An introduction to climate change and what it means for our oceans and coasts; An introduction to the blue economy followed by discussion. This partnership allowed course participants to benefit from experienced presenters, focusing on practical projects including a virtual tour around the Two Oceans Aquarium exhibits, a virtual tour around the turtle rehabilitation project, as well as a focus on marine wildlife management in a space of intense urban/wildlife interface. 
PAKISTAN: Importance of Oceans in Securing Economic and Climate Security for Pakistan, Online, 23 Jan– 03 February 2023; Role of the Ocean in Preserving Climate and Sustenance of Life, Livelihood and Food Security with Special Reference to Pakistan; Online, 13 - 23 Dec22: in English and Urdu Language 
Two more courses were held by Pakistan Ocean Academy which attracted a large regional following due to the high interest shown by participants from the Arabian Sea and Indian Ocean coastal countries, apart from Pakistan. The purpose of these courses is mainly to enhance awareness on challenges and opportunities concerning the environment - particularly the marine environment - and the connection with climate change and global warming. The content emphasises the role that all persons can play in wisely and sustainably using resources and the environment, while preserving and protecting them for current and future generations. Certificates were awarded to the participants successfully completing the course with 80% or more attendance and overall feedback was that the programme was "Excellent". Below some other testimonials from participants:
"During this period, I have learnt about the importance of oceans in economic, security, and development terms. This course helped me to understand why and how can we shift our traditional economic paradigm to a maritime blue economy paradigm which is a cheap and environment-friendly way to boost our economy. But we also need to govern our resources and ocean in a better way because it is our collective responsibility to protect the sea. This course helped me a lot to know about oceans from every perspective and this can help me in my academic career". Muhammad Ali Raza 
"This course was very informative for me. I am an environmentalist. The concept of Blue economy, Pakistan's maritime industry and resources was very unique and new for me. The second last lecture on women/ gender roles and the lecture by Dr Aneel Salman was very engaging and interesting. The way he included the concept of superheroes and Aquaman was great. Through this course, I learned how to convince people, make interesting presentations and deliver a lecture. He understood the psychology of young people and somehow managed to use the modern terms for good. Other lectures were also very informative and gave a broad picture of the current economic crisis and how we can make it better. I have already told my friends about this course. I am looking forward to more courses. Thank you so much for this opportunity. I will definitely use this knowledge in future as well by first promoting it because very few people are aware of the blue economy and they don't really focus on how we can make Pakistan a great country by using the maritime resources. When there is a will, there is a way. You are already doing the job and Ocean Academy took the first step. I will always be thankful. Every small contribution matters. It effects will be more obvious after some years." Arroj Fatima 
SINGAPORE: The Ocean, Source of Life and Livelihoods - An online Ocean Literacy Course; Online, 12 – 23 January, 2023, in English Language
IOI Ocean Academy Singapore completed their first course in 2023 with an IOI Ocean Academy programme focussing on the Asia-Pacific / East Asian / South / Southeast Asian Seas. The programme had a global overview and a local focus on Thailand, Singapore / Malaysia / Indonesia's marine ecosystem, mangroves, marine parks, marine protected areas (MPA), mangroves, bio-diversity and Ocean related local issues. Discussions were also held on Ocean as a living entity, its bio-diversity, marine environment, concept of sustainability and application of the blue economy for ocean related activities and business ventures.
A brief presentation on IMO Conventions on marine pollution covering all the six annexes (MARPOL), Ballast Water Management, Marine Litters, Ocean Gyres and Plastics Pollution as a menace to ocean environment and bio-diversity system were the main topics of keen interest amongst the participants. Contributions of Regional Cooperation like "Partnerships in Environmental Management for the Seas of East Asia" (PEMSEA) and "Indian Ocean Rim Association" (IORA) were discussed specifically in the perspective of socio economic and ocean environmental management. Lots of video clips (including deep ocean bio-diversity / ecosystem) and audio-visual illustrations were used to engross the participants. 
The concept and content of the course was well appreciated by all the participants who will be propagating the message in their circles of network and amongst their peers. The next Singapore Ocean Academy course will target, mainly, laypersons and young students of school/colleges, who are keen to learn more about the IOI's vision and mission and above all, IOI's Ocean Literacy Training Program and Other upcoming Training Programs. 
INDIA: Ocean Literacy: Know Your Planet Beyond the Land, Online, 12 -23 Dec 2022 in Marathi and English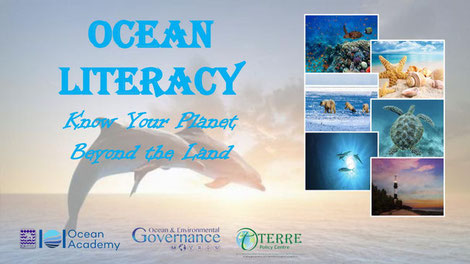 IOI Ocean Academy India in partnership with TERRE Policy Centre, and International Ocean Institute delivered the second online IOI Ocean Academy course, principally conducted by Sunil Shastri, Director of the IOI Ocean Academy India and Vinita Apte, Founder Director TERRE. The course was divided into four parts: One Ocean- a place of wonder, beauty, and danger, and of critical importance to life on Earth; Governing Our Ocean- a delicate balancing act: meeting our needs sustainably, and for the benefit of all, today and in the future; Local or Audience Relevant Topics; What next on this matter? Conclusion and the Way Forward. The concluding session summarised the nine sessions held, and the participants had to complete an assessment on the topics covered throughout the course. The participants gave their feedback on their experience and expressed gratitude to the organisers. The certificate of participation was awarded to all those participants successfully completing the course. 
MALDIVES: Fair Treatment of Seafarers, Online, 11 - 22 Dec22 in Dhivehi Language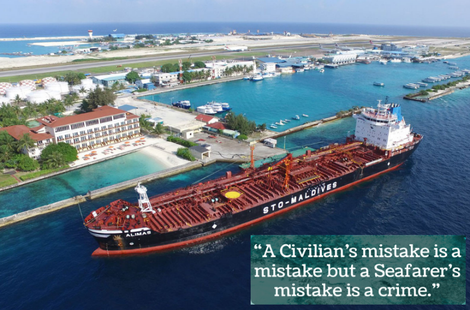 The course was conducted primarily by Dr Azmath Jaleel, Director of the IOI Ocean Academy Maldives, with the participation of other distinguished guest lecturers. An introduction to IOI was delivered by means of a video message from the Managing Director of the International Ocean Institute, followed by a presentation on the development of the shipping industry in the Maldives, and related topics: crew recruitment; issues faced by seafarers on board; mental health of seafarers; criminalisation of seafarers; abandonment of vessels and crew; distant water fishers and their exploitation; the legal regime, with special focus on the Maritime Labour Convention. PowerPoint presentations, videos, slides and group discussions were carried out. The participants were divided into 4 groups with each group delivering a presentation on a topic relevant to the course on the final day.  The overall feedback from the participants was positive. Some of the comments below:
"The course is excellent and very relevant, it gave us a lot of information about unfortunate situations seafarers face around the world, information we would otherwise not have known."
"Maritime area is an area that people are not so aware of, this course and courses like this would definitely increase awareness among people"
TURKEY: Conservation and Sustainability of the Marine Environment in Turkish Seas; 14 Nov - 23 Dec22; in Turkish 
The second online Ocean Governance Course, offered jointly by International Ocean Institute (IOI) and the Turkish Marine Research Foundation (TUDAV) aimed to upgrade Ocean Literacy, specifically targeting government officials, educators, and media representatives. Eighteen online sessions included presentations, discussions, readings, videos and interactive tools to explore new and emerging issues in marine conservation and sustainability. Certificates were awarded to the selected participants completing the programme with a high level of attendance, who were selected from the total of 555 applications received. 
Feedback:
"I can say that I learned something new in almost all sessions, since my knowledge of marine ecosystems is quite limited in general. I can say that I am very knowledgeable about the legal regulations and agreements, especially in the protection of coastal areas and seas, because the presentations on this subject made me realize how little my knowledge is in this field. The awareness I gained on this subject was what I loved most about the course. I also realized that as social scientists, it is necessary to pay more attention to the issue of marine ecosystems and sustainability."
"I think I liked your egalitarian and respectful approach to the ecosystem the most, I also liked the humble and exceptional support of the lecturers and their interest in questions, thank you and of course their satisfying information"
EGYPT: Contribution of Sustainable Development goals to Marine Environmental Conservation; Online 13Nov - 4 Dec 2022, in Arabic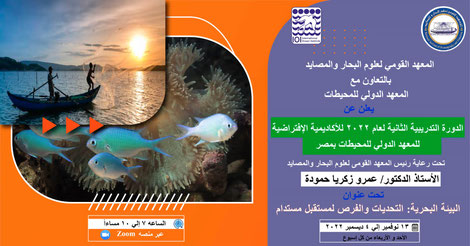 The second online Egypt IOI Ocean Academy course was successfully completed last December. Each session lasted 3hrs and included videos, presentations and discussions and the main topics covered were: Law of the Sea; Resources; Implications because of human activities; Climate Change and the Blue Economy; Management of Resources. Discussions were held about the boundary delimitations and resources management. A total of 113 applications from Yemen and Egypt were received for this course for a maximum of 35 places; certificates were awarded to those successfully completing the course with more than 80% attendance. Participants hailed from a mixture of backgrounds and employment histories related and unrelated to the marine environment.