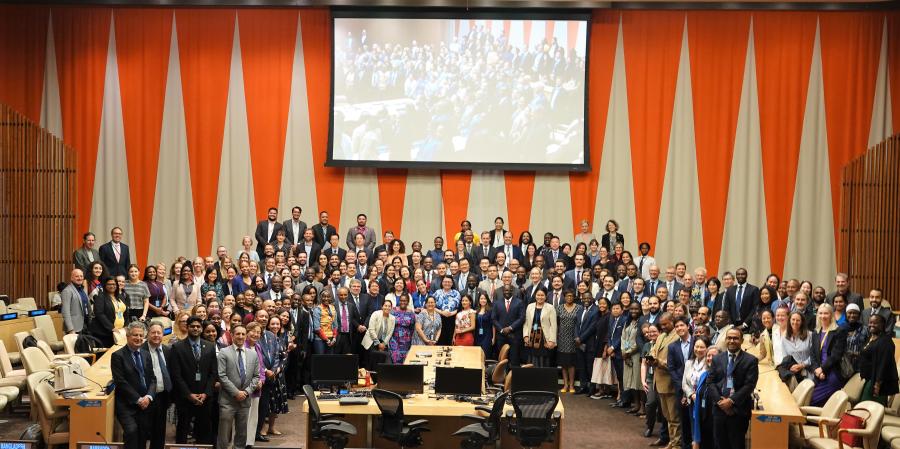 Photo by IISD/ENB | Pam Chasek
A historical moment for the high seas
Liliana Rodriguez Cortes
IOI delegate to the BBNJ
BBNJ ICG5.3 Report
Intergovernmental conference on an international legally binding instrument under the United Nations Convention on the Law of the Sea on the conservation and sustainable use of marine biological diversity of areas beyond national jurisdiction; Further resumed fifth session New York, 19 and 20 June 2023
On Monday 19 June, at the United Nations Headquarters in New York, delegates, members of the Intergovernmental conference (IGC) and civil society gathered to adopt the high seas treaty under the United Nations Convention on the Law of the Sea (UNCLOS) on the conservation and sustainable use of areas beyond national jurisdiction (BBNJ)
The President of the General Assembly Csaba Kőrösi (Hungary), acknowledged the remarkable work of Rena Lee (Singapore), President of the Intergovernmental Conference, recognizing the power that women bring to the negotiation, he thanked all delegations for bringing this agreement together, as a testament to the power of multilateralism.
"Together we can achieve sustainable solutions to the environment that will align to the SDGs and the 2030 agenda, the Paris Agreement and the Montreal Protocol"
António Guterres, Secretary-General of the United Nations
António Guterres, Secretary-General of the United Nations, stressed that once delegations succeeded in drafting the agreement, it was now the time to call on all States to sign and ratify the agreement without delay. He emphasized the importance of building on the work of all delegations to secure a more healthy, resilient and productive ocean benefiting current and future generations.
The Agreement under the United Nations Convention on the Law of the Sea on the Conservation and Sustainable Use of Marine Biological Diversity of Areas Beyond National Jurisdiction was formally adopted by consensus, with some clarifying notes from the delegations from the Russian Federation, and from Venezuela. The text is available in all six languages of the United Nations and can be accessed from A/CONF.232/2023/4 . 
During the general exchange of views, several countries and groups expressed their statements including: Monaco; Singapore; Cuba, speaking on behalf of the "Group of 77" developing countries and China; Somalia, speaking on behalf of the African group; Samoa, speaking on behalf of the Alliance of Small Island States (AOSIS); Botswana, speaking on behalf of  the Group of Landlocked Developing Countries (LLDCs; the delegation of the European Union; Barbados, speaking on behalf of the Caribbean Community (CARICOM); Fiji, speaking on behalf of the Pacific Island Forum States: Palau, speaking on behalf of the Pacific small island developing States; Costa Rica, on behalf of the Core Latin American Group (CLAM).
"The ship has arrived but difficult manoeuvres need to be made so it can be properly docked."
Several delegations welcomed the successful adoption of the agreement, pointing out that this is a robust agreement complementary to existing provisions and filling gaps with strong foundations for the protection of high seas and additionally honouring the UNCLOS convention respecting rights and sovereignty of countries. It was also stressed that multilateralism is the best way to achieve the challenges of the threats of the oceans and that, adopting by consensus is a step forward for the conservation of nearly ⅔ of the oceans. The adoption of this treaty was a fundamental landmark of conservation.
Delegations also expressed that a healthy ocean is critical to fight climate change. Therefore proper enforcement, capacity building and transfer of technology, access to knowledge and information will be key to achieve conservation. They highlighted that adequate financing and implementation of this agreement is crucial and emphasised that there was no time to waste to ratify this agreement and for it to enter into force.