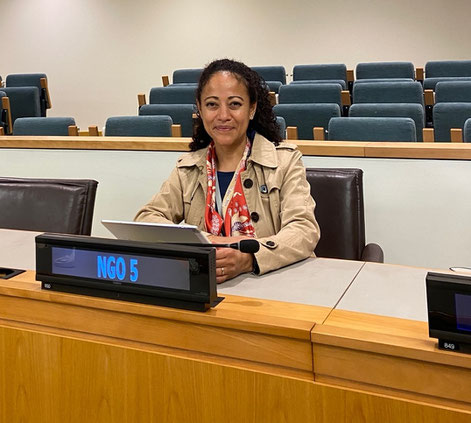 The twenty-third United Nations Informal Consultative Process on Oceans and the Law of the Sea (ICP) was held at UN Headquarters from 5 to 9 June 2023 on the theme: New Maritime Technologies: Challenges and Opportunities. Ms. Liliana Rodriguez Cortes, Delegate of the International Ocean Institute to the United Nations represented IOI.
During the opening session Under-Secretary-General for Legal Affairs and United Nations Legal Counsel, João Miguel de Serpa Soares, stressed that the theme of this year's meeting couldn't be timelier, highlighting that new ocean technologies are important for tackling common and unprecedented challenges that pose significant threats to the ocean and its health. Noting that this ICP as a forum provides a valuable opportunity to focus on how technologies, in particular new technologies, could be part of the solution to these challenges.
Throughout the meeting several delegations echoed this statement, expressing the importance of the ICP, finding it to be a very useful forum to discuss issues related to oceans and the law of the sea, as well as for exchange among governments, scientists, stakeholders, and innovators. The delegations also highlighted that this theme of New Maritime Technologies: Challenges and Opportunities provides a valuable opportunity to share knowledge, experiences, and better practices in this area.
The topic of focus: New Maritime Technologies: Challenges and Opportunities was organized in two segments, (a) new maritime technologies: the technologies, their uses and their contributions to sustainable development; and (b) international cooperation and coordination in promoting new maritime technologies for sustainable development. A series of expert panellists provided relevant information (available here)
Some delegations highlighted that new maritime technologies offer opportunities to counter the threats facing the oceans, as they can facilitate ocean observation, build resilient oceans and coastal communities, mitigate climate change impacts, decarbonize the shipping sector, counter pollution, and develop renewable energy sources, as well as improving data collection to improve marine science and achieve the goals of the United Nations Decade on Ocean Science.
In general, delegations expressed the need for robust and rapid technologies. The challenges for developing countries in the application of new maritime technologies were discussed, as well as the importance of marine observational data in decision making and scientific modelling and the need for synergies and overcoming barriers in the use of new technologies, including through new legal frameworks. In this regard, discussions focused in turn on how the BBNJ Agreement would contribute to capacity building and maritime technology transfer; the main challenges facing such activities; the role of the public and private sectors, as well as international organizations, in funding such activities.