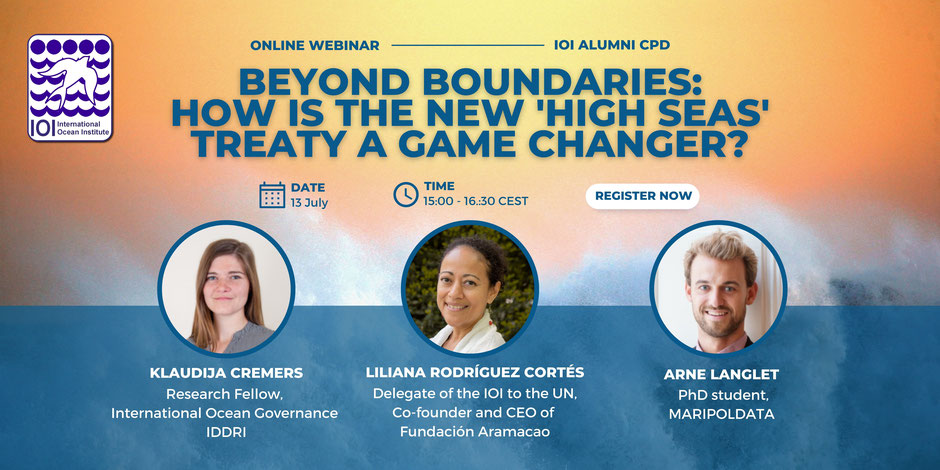 The second webinar in the series was exclusively designed with the aim of enriching IOI alumni's knowledge with unique perspectives and state of the art developments, delivered by experts, and offering opportunities for interaction, questions, and exchange of views.
This engaging session focused on the new treaty of the "high seas" on biodiversity beyond national jurisdiction. Experts drew attention to its key provisions and objectives, its significance in addressing gaps in existing international frameworks, and its ambitions to promote the sustainable management of marine resources. The speakers elaborated on future scenarios, highlighting potential implications and challenges associated with the implementation of this new treaty, opportunities for collaboration and innovation in scientific research, technology development, and sustainable practices.
Setting things off, Arne Langlet (PhD Student, MARIPOLDATA) highlighted how through a delicate balance of interests and some innovative drafting, BBNJ negotiators managed to finalize a treaty that can pave the way for the sustainable governance and conservation of biodiversity in the high seas. Following this, Liliana Rodríguez Cortés (Delegate of the IOI to the UN in New York, Co-founder and CEO of Fundación Aramacao), offered the attendees a unique reflection on the BBNJ consultations, bringing insights from the actual negotiation room and focusing on the perspective of an NGO in the process. Rounding up the webinar, Klaudija Cremers (Research Fellow, International Ocean Governance, IDDRI) elaborated on the next steps in the road to implementation and how the adoption of the BBNJ treaty is only the first step towards the conservation and sustainable use of marine biodiversity of areas beyond national jurisdiction, and that now States will have to ratify the treaty to bring it into force, establish core institutions and develop capacity, science and technology to ensure rapid, effective and equitable implementation of the treaty.
By the end of the session, the participants gained a comprehensive understanding of the High Seas Treaty and its potential to reshape the conservation and management of biodiversity beyond national boundaries, hopefully setting the stage for a new era of Ocean Governance and sustainability.
Register now for the upcoming CPD webinar on Deep Seabed Mining, which currently presents a complex spectrum of opportunities and immense challenges that demand thoughtful examination. This will be held on Thursday, 28 September 2023, 3:00 PM - 4:30 PM (GMT+2).