Convened under the auspices of the United Nations and co-hosted by the Governments of Kenya and Portugal, the 2022 United Nations Conference was held to Support the Implementation of Sustainable Development Goal 14: Conserve and sustainably use the oceans, seas and marine resources for sustainable development. The conference produced three outcomes: an agreed Call for Action; more than 1300 voluntary commitments by governments and other stakeholders; and key messages from partnership dialogues. Each of the Ocean Conference voluntary commitments addresses one or several of the SDG 14 targets, often with an associated positive impact on other SDGs.
Since its foundation in 1972, the IOI has actively upheld and promoted the vision of founder Elisabeth Mann Borgese to provide dedicated capacity development and training on ocean governance that focuses on sustainable governance of the ocean and its resources so that future generations can share in their benefits. Placing its experience, commitment and expertise at the service of the oceans community to achieve SDG14, the IOI, has this year, on it's 50th Anniversary, submitted a new commitment #45943, is the lead partner in commitment #41327 and a partner also in #41315; the latter two submitted for the first Ocean Conference in 2017 and upheld by the IOI since then.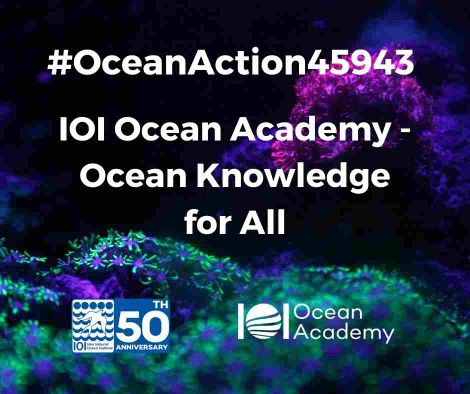 #OceanAction45943: IOI OCEAN ACADEMY - OCEAN KNOWLEDGE FOR ALL 
We need a healthy Ocean to survive. But our Ocean is in trouble, and so are we. By providing regionally and locally relevant, entry-level online Ocean Literacy programmes, free of charge, the IOI Ocean Academy enables interested laypersons to acquire the skills and knowledge needed to understand the complexities of the ocean and its local and global effects, and allow them to participate more actively to collectively achieve the SDGs.
Visit our dedicated webpage for the IOI Ocean Academy to learn more.