As part of this programme, throughout 2023 a webinar series has been exclusively designed with the aim of enriching the IOI Alumni's knowledge with unique perspectives and state of the art developments, delivered by experts, and offering opportunities for interaction, questions, and exchange of views.
FirST WEBINAR: SAILING INTO THE BLUE ECONOMY: TRENDS AND FORESIGHT, 23 MARCH 2023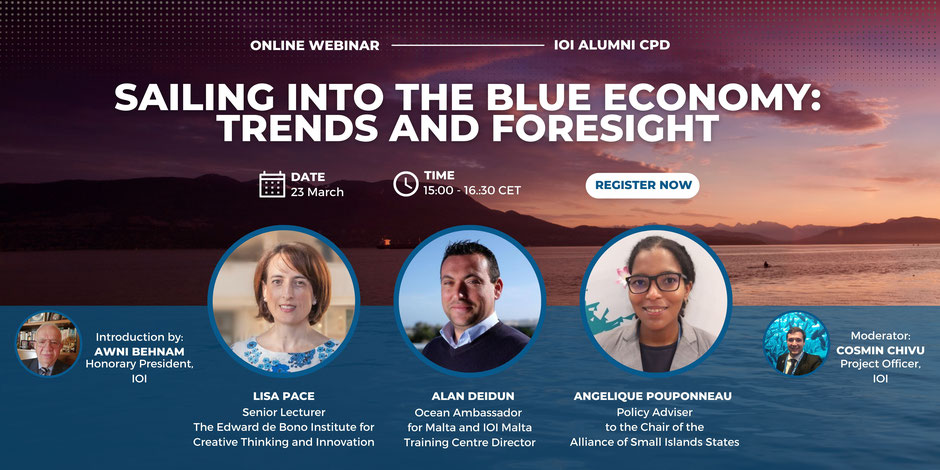 This webinar aimed to provide a comprehensive overview of the current trends in the blue economy, as well as the future foresight and research directions that will be critical for achieving sustainable economic growth while protecting the marine environment. The expert speakers approached the topic from different angles based on their expertise. 
Setting things off, Dr Awni Behnam (Honorary President, IOI) provided a short introduction to the historic evolution of the concept and addressed both the opportunities and the pitfalls that come with it. Dr Lisa Pace (Senior Lecturer, The Edward de Bono Institute for Creative Thinking & Innovation) highlighted future trends and the challenges to harnessing blue economy opportunities for innovation whilst understanding the socio-economic implications of ocean-based activities. Following this, Prof Alan Deidun (Ocean Ambassador for Malta and IOI Malta Training Centre Director, University of Malta) elaborated on interlinkages between the blue economy and the resources present in the deep sea, while answering the very timely question of whether or not we are heading towards a "Blue" Tragedy of the Commons. Ms Angelique Pouponneau (Policy Advisor, Alliance of Small Islands States) offered the attendees a unique perspective on how a sustainable blue economy requires policy, institutional and legal coherence for success – with a focus on the Seychelles.