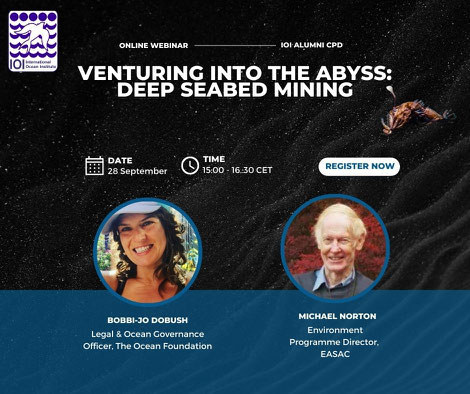 The third webinar in the series focused on Deep Seabed Mining which currently presents a complex spectrum of opportunities and immense challenges that demand thoughtful examination. Not only does deep seabed mining represent a burgeoning industry with the potential to revolutionise resource extraction, but it also brings to the forefront pressing environmental, ethical, and social concerns juxtaposed against the consideration of the principle of the Common Heritage of Humankind as laid out in UNCLOS. 
This engaging session proved to be highly informative and insightful, marked by the valuable contributions of Dr Michael Norton (Environment Programme Director, EASAC) and Dr Bobbi-Jo Dobush (Legal & Ocean Governance Officer, The Ocean Foundation). The Webinar delved into the multifaceted dimensions of deep seabed mining, focusing on its environmental, ethical, and technological implications.
Dr Norton's insights, drawn from his extensive experience in environmental science and policy, provided a comprehensive understanding of the complex intersection between international collaboration, environmental preservation, and deep seabed mining. His emphasis on the importance of sustainable practices and the common heritage of humankind underscored the significance of responsible resource management in safeguarding our Ocean for future generations.
Dr Dobush's passionate advocacy for Ocean conservation and her work in promoting a moratorium on deep seabed mining highlighted the ethical considerations associated with this industry. Her nuanced perspective on sustainable mining practices and the need for a balanced approach resonated deeply with the audience, highlighting the imperative of safeguarding marine ecosystems and respecting the rights of indigenous communities.
During the Q&A session, the Webinar participants actively engaged in discussions, addressing critical issues such as ecosystem disruption, biodiversity preservation, and the ethical implications of deep seabed mining. As the Webinar drew to a close, the participants gained a comprehensive understanding of the complexities surrounding deep seabed mining, along with a heightened awareness of the urgent need for responsible practices and international collaboration to ensure the long-term health and sustainability of our Ocean.
REGISTER NOW for the 4th CPD webinar "The Role of Ocean Literacy in Catalysing Progress on SDG 14 and Beyond", 7 December 2023, 10.00 – 12.00 Hrs CET